WEDDINGS at tessoro AT LAS CONCHAS RESORT
WEDDINGS AT THE RESORT OR THE BEACH IN FRONT ARE NO LONGER AN OPTION. WE DO HOWEVER CONTINUE TO HAVE ROOM ACCOMMODATIONS AVAILABLE FOR HONEYMOON SUITES, WEDDING GUESTS AND FOR PEOPLE ATTENDING CEREMONIES HELD OFFSITE OR IN THE LAS CONCHAS BEACH AREA. PLEASE CONTACT US FOR MORE DETAILS.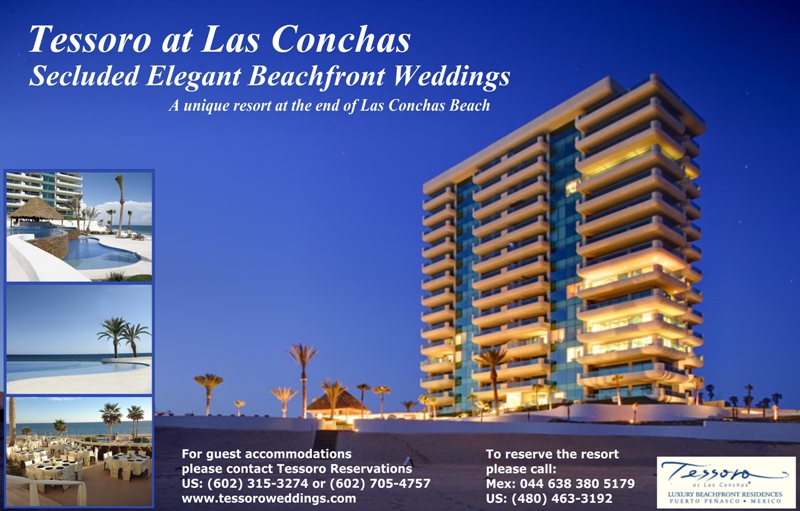 * note: to download a PDF of the above image click here.

Aerial view
Weddings accomodations at Tessoro are very popular. Here is some information for you to help plan to house wedding guests or for honeymoon suites etc for weddings held in the area.
The resort is located right on the the beautiful Las Conchas Beach. The setting is world class, very exclusive and has incredible views of the ocean and beaches. It is highly encouraged that you book accommodations for your special day early and that you book the condos needed for the event as soon as possible.
Condos and accommodations
Condo availability is extremely limited at Tessoro (about 6 large 2-3 bedroom units, sleeping 6-8 guests each). Some of these units have the ability to be split into two separate units for wedding guests. When split, the 3 bedroom 2 bath unit becomes a large 1 bd/1 bath unit with a full kitchen and a 2 bd/1 bath unit with a kitchenette and a separate entry door. If fully booked out, the resort has rental availability for approximately 40-50 guests. PLEASE BOOK THE RESORT AND CONDO'S EARLY! To see the condo configurations and floors-plans described above (with and without the 1 bdrm / 2 bdrm split), follow the link under Booking Your Stay section below.
BOOKING YOUR STAY - TESSORO RESERVATIONS
Tessoro Reservations TESSORO WEDDINGS
(602) 315-3274 CONDO CONFIGURATIONS & PRICING
info@tessororeservations.com >> CLICK HERE <<
Tessoro Reservations can handle the booking of not only the bridal suite but the rooms for your guests as well. They handle many of the public rental condos at the resort but also have access to a few private condos not listed on rental sites. The units they handle are some of the best at the resort. All are highly upgraded and have incredible views. The units handled are large 3 bedroom 2 bath condos with 2,255 sqft (1755 sqft of interior space + 500 sqft of balconies). Contact them for more information. Floorplans and pricing is listed below.
condo configurations & pricing
** CONTACT TESSORO RESERVATIONS DIRECTLY FOR 2BD/1BA AVAILABILITY
** CONTACT TESSORO RESERVATIONS DIRECTLY FOR 12BD/1BA AVAILABILITY
* Additional fees not included in the above posted rates:
Cleaning fee ($75 3bdr, $65 2 bdr, $55 1 bdr)
VAT & Resort Tax of 16%
Refundable security deposit of $200
Maximum Guest Capacity:
3 bed/2 bath > people max = 9
2 bed/1 bath > people max = 5
1 bed/1 bath > people max = 4
Note: Tessoro Resort and the condo owners take the maximum capacities listed very seriously.
Exceeding the listed sleep capacity of the condo listed above will result in forfeiture of the entire rental amount, an additional charge of $50 per person, per night over the listed capacity, and a loss of the security deposit. Please respect this rule. If your group exceeds the limits above, please let us help you find an additional condo for your stay. Thank you!